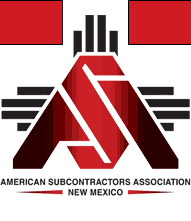 NAVIGATE

News & Publications
Feb 9, 2017
2017 Annual Sponsors
---
Thank you to the following companies for being 2017 ASA-NM Annual Sponsors:
Red level
White level
Blue level
ASA-NM offers a full year of sponsorship opportunites bundeled into money saving packages.  There are three packages available as well as two "A la Carte" items that will save you money.
Marketing and networking are valuable activiites for any organization searching for new clients and exposure in the construction arena.  What better way to reach your target audinece than to sponsor the local chapter of ASA?  Not only will you be face to face with decision makers and potential custmers, but your exposure to our members and guests will continue after the meeting or event is over.
These companies took advantage of our 2017 Sponsorship Opportunites:
Red Level:
Western States Fire Protection
White Level:
American National Insulation & Sealants
Jack's Mechanical Solutions, Inc.
Blue Level:
Metalcrafters of Albuquerque, Inc.
Southwest Abatement, Inc.
2018 Sponsorship Opportunites will be available in November of 2018.