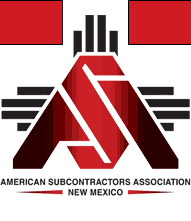 NAVIGATE

News & Publications
Jun 19, 2018
2018 Annual Sponsors
---
The following companies have taken advantage of this great opportunities.  Thank you for your continued support.
Red Level Sponsors
White Level Sponsors
Blue Level Sponsors
How it Works & Why!  Marketing and networking are valuable activities for any organization searching for new clients and exposure in the construction arena. What better way to reach your target audience than to sponsor the local chapter of ASA?  Not only will you be face to face with decision makers and potential customers, but your exposure to our members and guests will continue after the meeting or event is over.  Take a look at our sponsorship opportunities and the benefits you will receive with them.
ASA-NM Chapter offers a full year of sponsorship opportunities bundled into money saving packages. There are three packages available as well as two "A la Carte" items that will save you money.
FULL PACKAGE HIGHLIGHTS
Red Level– $3,000.00 Value of the RED LEVEL package is $3,906.00…..Savings of 23%
Table for 10 people at the Annual Industry Awards Banquet (July 2018) (Valued at $900.00)

Premium full page color ad in the 2018 Membership Directory (Valued at $500.00)

Registration for 1 team of 4 players and an "Individual Hole Sponsor" for the Annual Golf Tournament (October 2018) (Valued at $900.00)

8 reservations at any of our luncheons or seminars. (Example: 2 seats at the January luncheon, 3 seats at the May seminar and 3 seats for the August luncheon for a total of 8 reservations for the year of 2018, not valid for the Awards Event or Golf Tournament) (Valued at $256.00)

Premium Advertisement space (30 times a year minimum) Including: Sponsorship Banner (Displayed at each event), Event Placemats (luncheons), Event Programs (Awards & Golf), Website, Bi-Weekly Newsletter, FaceBook, LinkedIn and all PowerPoint presentations throughout 2018. (Valued at $1,250.00)

Talk time; you will get to speak to our membership about your company for 5 minutes at one of our luncheons or seminars (schedule to be determined by ASA-NM) (Valued at $100.00)
White Level—$2,200.00 Value of the WHITE LEVEL package is $2,702.00…..Savings of 18%
Registration for 4 people at the Annual Industry Awards Banquet (July 2018) (Valued at $360.00)

Full page Black & White ad on one of the "Section Tabs" in the 2018 Membership Directory (Valued at $300.00)

Registration for 2 people and an "Individual Hole Sponsor" for the Annual Golf Tournament (October 2018) (Valued at $600.00)

6 reservations at any of our luncheons or seminars. (Example: 2 seats at the January luncheon, 2 seats at the May seminar and 2 seats for the August luncheon for a total of 6 reservations for the year of 2018, not valid for the Awards Event or Golf Tournament) (Valued at $192.00)

Premium Advertisement space (30 times a year minimum) Including: Sponsorship Banner (Displayed at each event), Event Placemats (luncheons), Event Programs (Awards & Golf), Website, Bi-Weekly Newsletter, FaceBook, LinkedIn and all PowerPoint presentations throughout 2018. (Valued at $1,250.00)
Blue Level—$1,800.00 Value of the BLUE LEVEL package is $2,083.00….. Savings of 15%
Registration for 2 people at the Annual Industry Awards Banquet (July 2018) (Valued at $180.00)

Half page Black & White ad on one of the "Section Tabs" in the 2018 Membership Directory (Valued at $225.00)

"Individual Hole Sponsor" for the Annual Golf Tournament (October 2018) (Valued at $300.00)

4 reservations at any of our luncheons or seminars. (Example: 2 seats at the January luncheon, 1 seat at the May seminar and 1 seat for the August luncheon for a total of 4 reservations for the year of 2018, not valid for the Awards Event or Golf Tournament) (Valued at $128.00)

Premium Advertisement space (30 times a year minimum) Including: Sponsorship Sign (Displayed at each event) Event Placemats (luncheons) Event Programs (Awards & Golf) Website, Bi-Weekly Newsletter, FaceBook, LinkedIn and PowerPoint presentations throughout 2018. (Valued at $1,250.00)