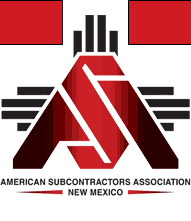 NAVIGATE


ASA-NM represents subcontractors banding together to solve the problems we face every day. Payment issues and risk management have always been important, but in today's business environment these issues are paramount if we, as subcontractors, are to survive. By becoming better educated, as a group, through the various ASA seminars and publications, we can level the playing field and become stronger and more profitable in our business.

UPCOMING EVENTS
Joint Industry ES&H Safety Meeting
Guest speakers: Mr. Bob Dunnington & Ms. Melissa Barker of NM OSHA
Topics: OSHA Fatal Facts & Updates
February 5, 2015 from 7:30 am- 10:00 am

IMPORTANT NEWS UPDATES
Mar 24, 2014
In this series, members had a chance to talk to and hear form other industry professionals regarding each of the Bucket Series topics.  Learning from their peers the "how, what and why" of each topic and how it applied to their business.
January 9, 2014 was the GC Fourm Happy Hour with Representatives from Enterpriese Builders Corporation.
January 23, 2014 was the Seminar on Job Cost, Overhead & Break Even with REDW, LLC.
February 13, 2014 was the Luncheon on Billings with Representatives from Enterprise Builders Corporation, HB Construction, Sealant Specialists, Inc and Miller Bonded Inc.
February 27, 2014 was the Seminar on Banking, Bonding and Insurance with Representatives from Burke Insurance Group, Downey and Company, Menicucci Insurance, Wells Fargo Business Banking and Bank of the West.
March 13, 2014 was the Luncheon on Lien Laws with Calvert Menicucci, P.C.