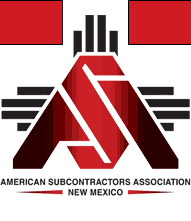 NAVIGATE


ASA-NM represents subcontractors banding together to solve the problems we face every day. Payment issues and risk management have always been important, but in today's business environment these issues are paramount if we, as subcontractors, are to survive. By becoming better educated, as a group, through the various ASA seminars and publications, we can level the playing field and become stronger and more profitable in our business.

IMPORTANT NEWS UPDATES
Jun 22, 2015
ASA-NM Selects the 2015-2016 Board of Directors
The American Subcontractors Association of New Mexico has selected by vote of the membership, the following members of the subcontractor community to lead in efforts to strengthen, educate and advocate for the construction industry statewide from July 1, 2015 through June 30, 2016.  The incoming Board of Directors for ASA-NM are as follows:
Officers:
Board of Directors:
Congratulations to the incoming 2015-2016 Board of Directors!