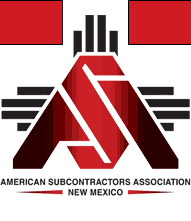 NAVIGATE

News & Publications
Feb 9, 2017
ASA-NM Past Presidents
---
ASA-NM's Past Presidents The American Subcontractors Association of New Mexico was established in 1975.  Thank you to all the Past Presidents; without your hard work and dedication the ASA-NM would not be what it is today.
Past Presidents
1975 Carlton Cook; Cook's Building Specialties
1976- Lloyd Sallee; JC Badridge Lumber Co
1977- Joe Graff; Graff Flooring Contractor
1978- F.D. "Mac" McLeod; Bonded Plumbing & Heating Co
1979- William "Bill" Morrow; All Field Insulation Co., Inc.
1980-Jack Donner; Donner Plumbing & Heating
1981-William "Bill" Klein; Klein Enterprises, Inc.
1982- Rick Dunlap; Merit Insulation, Inc.
1983- Ann Johnson; PPG Industires
1984- Ken Ray; Seal Co
1985- John Turner; John Turner Contractor, Inc.
1986- Max Glover; Aluminum Sales Corporation
1987- Jim Klein; Klein Enterprises, Inc.
1988- Jerry Graff; Graff Flooring Contractor
1989- Sid Skarr; National Heating & Ventilating
1990-1992 Randy Kaufman; Pinon Mechanical
1993-1994 David Ashcraft; Ashcraft Mechanical
1994-1996 Patsy Tomosky; The EdCo Corporation
1996-1998 Tom Schafer; ABC Door Co
1999- Jim Henson
1999-2000 Carla Sonntag; Commercial West Insurance Agency
2000-2001 Kevin Stock; RSC Equipment Rental
2001-2002 Ben Martinez; Harrison Contracting
2002-2004 Steve Rogers; Millers Insulation
2004-2005 Bob Pelletier; Pelletier Construction
2005-2007 Bill Green; Safety Counselling
2007-2009 Donna Donoghue; Yearout Mechanical
2009-2010 Kevin Conboy; SW Lath & Plaster
2010-2011 Denise Mello; Sealant Specialists
2011-2012 Jason File; Les File Drywall, Inc.
2012-2013 Jason File; Les File Drywall, Inc.
2013-2014 Execuitive Board
2014-2015 Miles Gossett; TradeSource
2015-2016 Ray Moya; Prime Electric, Inc.