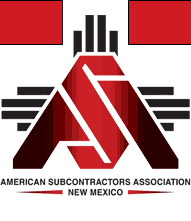 NAVIGATE

Member Luncheons
2018 Member Luncheons
January 18 Member Luncheon; Incrase Workplace Morale & Productiviety through Managing Difficult Employees- Part II Guidebooks with guest speaker Jill Avey of Southwestern HR Consulting and Legislative Preview with Mo Chavez of SaucedoChavez PC
February 22 Member Luncheon; Joint Associaton with ASA-NM, ABC and NMUCA with guest speakers Paul Gessing of the Rio Grande Foundation presenting on the Right To Work win in Sandoval County also the 2018 NM Legislative Update presented by Senator Jacob Candelaria.
April 5 Member Luncheon; General Legal Stuff presented by Sean Calvert Esq or Calvert Menicucci PC
May 10 Member Luncheon; Annual Meeting and Medical Canabis in the Workplace presented by Jacob White of Reynold Greenleaf & Associates and Samantha Adams of Adams + Crow Law Firm
June 14 Member Luncheon; Building Relationships One Project at a Time with panelists from First Mesa Construction, Enterprise Builders Corporation, Kliner Constructors, JB Henderson Construction, HB Construction and More.
September 13 Member Luncheon; Dones- The Future of Construction- Utilizing technology, drone imaging, and 3D scanning to incrase productivity and safety on your jobsite presented by Anthony Paulos with Holman's USA and Franklins Earthmoving.
November 8 Member Luncheon; Tariffs and How it's Affecting the Construction Industry presented by Albuquerque Windustrial and Rio Rancho Education Foundation; Brining the Trades Back into the Schools presented by Bill Stanage with Wealth Managment Group.
2019 Member Luncheons
January 17 Member Luncheon; 2019 Legislative Preview presented by Morris Chavez Esq. of SaucedoChavez PC
February 14 Member Luncheon; Working on Federal contracts or planning to? Dome and learn how you can implement Federal Sick Leave for your company and how it affect estimating and payroll.
March 19 Partner Member and Board of Directors only dinner.
April 11 Member Luncheon; Have you appreciated your General Contractor lately?  Join us for a conversation featuring some of ASA-NM's partner members including JB Henderson Construction, Klinger Constructors and Enterprise Builders Corporation.
May 9 Member Luncheon; Economy and Business in New Mexico presented by Representative Antonio Maestas, Chair of the House of Commerce and Economic Development Committee also presented was the 2019 Legislative Review by Morris Chavez of SaucedoChavez PC.
June 13 Member Luncheon; Current State of BIM in Real World New Mexico presented by Real World Users including representatives from GS/SJCF Architecture, Yearout Mechanical, Chavez Grieves Consulting Engineers and Bridgers & Paxton.
August 26 Joint Albuquerque City Council Candidate Forum
September 12 Member Luncheon; Employment Practices Liabiity Insurance and Trends presented by USLI and November 2019 School Mill Levy and Bond Election Update
November 14 Member Luncheon; Subcontractor/Supplier Lien Rights and Timelines- Know Your Rights and How Long You Have to Take Action presented by Calvert Mencicucci PC
November 18 Lunch & Learn; Come and meet the Board of Directors and see What ASA-NM does and what we can do for you.
2020 Member Luncheons
Topics are subject to change
January 9; Expungement- New Mexico Law and how it pertains to your business presented by David Pardo; Records Custodian/ Senior Trial Attoryney, Office of the Second Judicial District Attorney
February 13; Legislative Update and Sick Leave with Mo Chavez
February 19; Canceled Las Cruces Member Luncheon
March 17; Postponed Vendor Member and Board of Directors only dinner
April 9; Online- Mayor of Rio Rancho Greg Hull and Gary Tonjes of Albuquerque Economic Development
May 14; Online- Annual meeting and Stress Managment
May 20; Canceled Las Cruces Member Luncheon
June 11; Online Business Practice Interchange
August 19; Canceled Las Cruces Member Luncheon
September 10; Online Apprenticeships/ Mentorships, JTIP, WIC Interships and nontraditional construction workers in the industry
November 5; Las Cruces Member Luncheon
November 12; General Contractor Panel Discussion