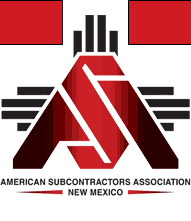 NAVIGATE

Committees
AWARDS
Committee Chair, Jennifer Mason, Fairway, Inc.
PURPOSE
The Awards Banquet Committee will plan and coordinate the ASA-NM Annual Industry Awards event.  The banquet is intended to recognize members of the New Mexico Construction Industry who have demonstrated professionalism and excellence in their field.
BUSINESS PRACTICE INTERCHANGE
Committee Chair, Dan Albrecht, The Noel Co. Inc
PURPOSE
The Business Practice Interchange (BPI) provides for the exchange of business and credit information about contractor clients.
EXECUTIVE COMMITTEE
Committee Chair, Pixie Nunez, ARI Graphix
The Executive Committee is made up of the Officers from the Board of Directors and over sees the operations of the association.  Officers are the current President, Vice-President, Secretary, Treasurer and Immediate Past President.
FINANCE
Committee Chair, Jarrod McMahan, REDW, LLC
PURPOSE
The Finance Committee shall be responsible for monitoring the financial affairs and assuring the financial integrity of the Association.
GOLF
Committee Chair, Kendra Hankins, Southwest Abatement
PURPOSE
To plan and host an annual golf tournament to promote ASA-NM to industry members and raise revenue for the general operating fund.  In keeping with the Association's Mission Statement to support community organizations there shall be a donation to a charity from revenue generated from the Golf Tournament.  The Committee shall decide on the charity, the amount of the donation, and how best to raise the amount- keeping in mind the stated profit goal.
Government Advocacy
Committee Chair, Sean Calvert Esq. Calvert Menicucci PC
PURPOSE
Advocate for protecting the rights of the Association's members and improving the business environment before all branches and levels of government and the construction industry.
MEMBERSHIP
Committee Chair, Chair: Andrew Villegas, Western States Fire Protection
PURPOSE
To market ASA-NM, recruit new members and assist with retention of existing members.
NOMINATING
Committee Chair, Shasta Erickson, Miller Bonded Inc.
PURPOSE
Recommends officers and directors to be elected each year.  In addition, recommends nominees for annual industry awards.
EDUCATION
Committee Chair, Ray Moya, Prime Electric
PURPOSE
The Education Committee shall develop a program of educational and informative topics pertinent to the Association's membership, vision, and mission for presentation at its monthly meetings.
SHIP
Committee Chair, Andrew Villegas, Western States Fire Protection
PURPOSE
The purpose of the SHIP Program Committee is to administer and maintain the Partnership between New Mexico OSHA and ASA-NM and to promote a safe and healthy work environment for members of ASA-NM.
Interested in joining an ASA-NM committee? Contact Gia Espinoza, Executive Director at memberservices@asa-nm.org or 505-220-7024.  We would love to have you.