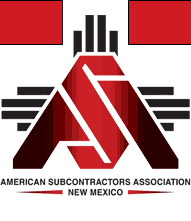 NAVIGATE

About Us
ASA-NM Mission: The American Subcontractors Association - New Mexico fosters, promotes, encourages and develops the best interests of subcontractors, specialty contractors and vendors for the construction industry in conjunction with construction industry partners.  As part of the American Subcontractors Assocation -New Mexico's mission it supports community organizations and helps its members to operate more efficiently.
ASA-NM Vision: To provide a unified voice that gives leadership, educates, politically guides and empowers its diverse, unique members to be the leading construction organiztion of choice:
ASA-NM Values: The ideals and beliefs of the American Subcontractors Association- New Mexico are ethical and equitable business practices, quality construction, a safe and healthy work evironment, integrity and membership diversity.
Legislative Advocacy
ASA-NM fights to protect your business.
2013   Hired a Lobbyist

2012   Supported SB16 (Keller) provides tax credit to a NM business that hires a graduate from a New Mexico University

2012   Supported SB67 (Neville) Maintains the scrap metal database and more closely regulates second hand scrap metal dealers.

2011   Supported In State Preference and Choice of Venue

2009   Successfully fought to protect your lien rights as a subcontractor

2007   Lien Law Changes

2007   Abolished Retainage in NM/Established Prompt Pay

2007   Supported Limiting Indemnification for Rental Equipment Contracts

2007   Hired a Lobbyist

2003   Void Indemnification Law

2001   Retainage Act

1995   Subcontractors Fair Practices Act
American Subcontractor Association National Awards
2018-2019 Gia Espinoza, Executive Director of the Year

2018-2019 Dan Albrecht, President of the Year

2017-2018 Marni Goodrich, President of the Year

2017-2018 Innovation Award

2009/2010 Chapter of the Year for < 100 Members

2008/2009 Chapter of the Year for < 100 Members

2007/2008 Exemplary Chapter Award

2006/2007 Chapter of the Year for < 100 Members

2007   Bill Green President of the Year

2006   Outstanding Service Award received by Chuck Cambron

2005   Government Relations Award for Merit for "Candidates Night"-

2004   Outstanding Industry Relations Award

2001   Leonard A. Weiss award for Excellence in Government Relations
Mayoral Forum
2004-2006   Golden Hammer Award for being the " Best Place in the US for Subcontractors" based on the Policy Environment Report Card of the U.S.

2001-2006   An Exemplary Chapter of the Year

2005   Chosen for Champion Pilot Program (Grow Membership)

2004   Outstanding Industry Relations Award

2003   Leonard A Weiss Awards for Excellence in Government Relations

2001   Leonard A Weiss Awards for Excellence in Government Relations
Other Accomplishments
2006   First Partnership for Subcontractors with OSHA (Safety Health Initiative Partnership Agreement - SHIP)

2005   Negotiation Seminar Series

2005   Community Giving Initiated

2003   First Annual Membership Directory Published - Doubled in Size since 1999

2003   First Annual Awards Banquet for Construction Industry Community

2001   First Annual Golf Tournament