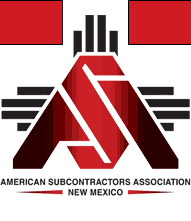 NAVIGATE

Exclusive Programs
Business Practice Interchange
The Business Practice Interchange, or "BPI" as it is commonly known, is a valuable service ASA-NM offers its members.
A BPI provides for the exchange of business and credit information about subcontractor clients.  The information exchanged must be factual and based on the actual experience of the ASA member providing the information.
All BPI participants must follow the published rules and guidelines for participation on BPI activities.
SHIP (Safety Health Initiative Partnership)
The SHIP Program is a Partnership between New Mexico OSHA and ASA-NM established to promote, safe and healthy work environments for members of ASA-NM.
ROLE & RESPONSIBILITES
Foster and maintain a good working relationship with New Mexico OSHA and their representatives.

Review, renew and keep relevant the established SHIP Safety Partnership between New Mexico OSHA and ASA-NM.

Encourage participation in the SHIP Partnership from the general ASA-NM members in good standing.
Contractors Knowledge Depot
Exclusively for ASA members; Construction Subcontractors Education Catalog, Brought to you by the American Subcontractors Association and the Foundation of the American Subcontractors Association.
ASAdvantage Program
The ASAdvantage program is designed specifically for the unique needs fo the construction specialty contractor.  You get discounted pricing on goods and services like office supplies, Project Management and Verizion Wireless.
CICA (Construction Industry Crime Alliance)
CICA is a tool for APD and Albuquerque's construction and contracting community to share information about active offenders and criminal enterprises operating in Albuquerque targeting the construction community.
New Mexico Contractors Comp Trust
Choose to control your Worker's Compensation Costs.  That's what the New Mexico Contractors Comp Trust Self Insurance Fund is all about.  As members of this self insurance program your employees retain all benefits and rights provided by the New Mexico Workers' Compensation Act.
For more information on any of these programs, please contact ASA-NM directly at 505-220-7024 or memberservices@asa-nm.org