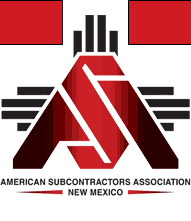 NAVIGATE

Join ASA-NM
Who can join?
Any person, firm or corporation that in the normal course of business furnishes commercial labor and/or materials or provides service to the commercial construction industry are eligible for regular membership in the local and national association. Architects, engineers, and general contractors are eligible to be partner members (local membership only).
Government Advocacy: Construction generates billions of dollars in revenues every year and government generates countless regulations and legislation that complicate the business of construction. Working together, ASA national is your voice in Washington DC and ASA-NM represents subcontractors in our state legislature. ASA works on behalf of members in New Mexico and throughout the nation, ASA-NM develops relationships with NM legislators, works with government agencies, legislative bodies and elected representatives, reporting on regulations and changes in laws that affect your business.
Strength in Numbers on Industry Issues: ASA-NM's powerful voice in the New Mexico construction industry for more than 40 years has improved business conditions for subcontractors and suppliers in the commercial construction industry. ASA-NM fights the big battles FOR YOU on issues such as insurance, retainage, standard contract language, prompt payment, bid shopping and more.  At the local, state and national level, ASA fights for improvements in the construction industry; by working together we can accomplish changes that are difficult to achieve alone.
Safety Health Initiative Partnership (SHIP): Be a member of the only safety partnership exclusively for the commercial construction industry.  The SHIP Program is a Partnership between New Mexico OSHA and ASA-NM established to promote, foster and maintains a safe, healthy and positive work environment for members of ASA-NM.
Education and Knowledge: Informative monthly membership meetings offer the opportunity to network with colleagues, hear current information and best business practices on relevant topics that address member's needs and interests.  The American subcontractors Association and the Foundation of the American Subcontractors Association is your source for educational products.  The Contractors' Knowledge Network, FASA is committed to forgoing and exploring the critical issues shaping subcontractors and specialty trade contractors in the construction industry.  FASA provides contractors with the tools, techniques, practices, attitude and confidence they need to thrive and excel.  FASA's Contractors' Knowledge Network has four components:  Contractors' Knowledge Quest (a program for commissioning and funding research on issues of importance to construction).  Contractors' Knowledge Bank (an online knowledge base of research and educational materials on issues of importance to construction).  Contractors' Knowledge Depot (a "bookstore" of digitized educational products designed for construction).  The Contractor's Compass (a monthly educational journal designed to equip members with the knowledge they need to prosper).
A Staff that Works for You: ASA staff members understand the needs of subcontractors and suppliers. Highly accessible and committed to serve our members, we will help you to find the answers you need to successfully operate our business.
Membership Directory:

Website Listing;

your company information will be listed on the ASA-NM and ASA website, boosting your company's exposure.

Printed Directory;

distributed to subcontractors, general contractors, archtiects, engineers and vendors in the New Mexico commercial construction industry.  These advertising tools will give your company extra exposure and visibility industry wide!
Read more at Join ASA-NM Today, What is the Value of your Membership or fill out the Membership Application
Read about the Partnership Program for General Contractors, Architects and Engineers
We encourage each of our members to obide by a Code of Ethics, a Model Code of Ethics is provided for your use.  Please feel free to use this model and adapt it for your business.  Model Code of Ethics