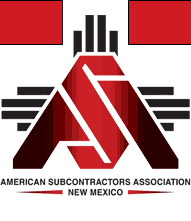 NAVIGATE

Join ASA-NM
Who can join?
Any person, firm or corporation that in the normal course of business furnishes labor and/or materials or provides service to the construction industry are eligible for regular membership in the local and national association. Architects, engineers, and general contractors are eligible to be partner members (local membership only).
Staff that works for you;

our staff is highly accessible and committed to serving member needs.  We will help find the answers you need to successfully operate your business.

Government Relations;

ASA works on behalf of members in New Mexico and throughout the nation, ASA-NM develops relationships with NM legislators, works with government agencies, legislative bodies and elected representatives, reporting on regulations and changes in laws that affect your business.

Strength in Numbers;

ASA-NM and ASA fight for improvements in the construction industry at the local, state and national levels; by working together we can accomplish changes that are difficult to achieve alone.

Valuable Educational Meetings;

Monthly ASA-NM meetings offer the most current information on relevant topics that address your needs and interests.  ASA-NM also holds in-depth panel discussions throughout the year that focus on issues that are important to your company. ASA's national meetings provide a broader perspective.

Informative Publications;

ASA-NM keeps you up to date with bi-weekly electronic updates, these updates keep you informed about the happenings at ASA-NM and ASA National.  You'll also receive The Contractor Compass, an educational journal, covering ASA national news, and Business Development magazine, a monthly e-zine helping those engaged with bringing in new clients.

Website Listing;

your company information will be listed on the ASA-NM and the ASA website, boosting your company's exposure.

Listing in the printed ASA-NM Membership Directory;

distributed to subcontractors, general contractors, architects, engineers, service and suppliers in the in commercial construction industry, creating more  exposure for your company.

Subcontractor Legal Defense Fund (SLDF);

The ASA SLDF funds legal representation on issues important to subcontractors, suppliers and service providers.
Read more at Join ASA-NM Today, What have you done for me laterly or fill out the Membership Application
Read about the Partnership Program for General Contractors, Architects and Engineers
We encourage each of our members to obide by a Code of Ethics, a Model Code of Ethics is provided for your use.  Please feel free to use this model and adapt it for your business.  Model Code of Ethics